News
November 2018
Share this:
Chang Tsi attended the AIPLA, and Michael Wu delivered a keynote speech on Trade Secret Disputes at the Annual Meeting
The AIPLA 2018 Annual Meeting was a three-day conference held from October 25 to 27, 2018 at Marriott Wardman Park Hotel, Washington, DC. Nearly 2,000 attendees gathered for this global event, including representatives from Microsoft, Johnson & Johnson, USG Corporation, JDA Software, Finnegan, American University, and other internationally renowned companies, law firms, government departments and institutions. Meanwhile, Ms. Spring Chang, Founding Partner of Chang Tsi & Partners, Mr. Kenneth L. Ng, Partner in the U.S., Mr. Michael Wu, Senior Attorney, and Mr. Ron Tsi, Assistant to Partner, were invited to attend the Annual Meeting.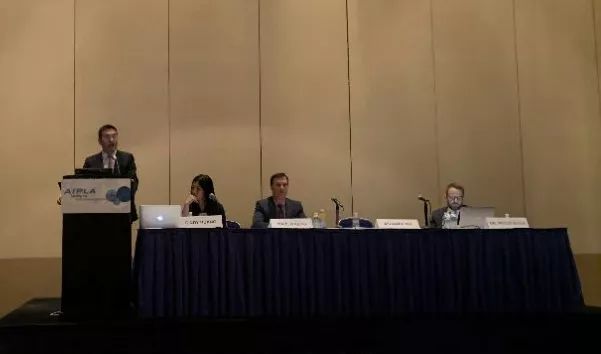 (Mr. Wu was giving his keynote speech)
The speeches at this Annual Meeting covered major concerns in the industry, by which hot issues in the areas of patent, trademark, copyright, and trade secret were discussed. This session was attended by The Honorable Andrei Iancu, Under Secretary of Commerce for Intellectual Property and Director of the United States Patent and Trademark Office, The Honorable Kara F. Stoll, Circuit Judge of the United States Court of Appeals for the Federal Circuit, and The Honorable Raymond T. Chen, Circuit Judge of the United States Court of Appeals for the Federal Circuit. Besides, the rest of the speakers all worked for globally reputed companies or institutions, such as Johnson & Johnson, Comcast, American Eagle Outfitters, Microsoft, University of Florida, American University, the European Patent Office and the Federal Trade Commission.
As a senior attorney of Chang Tsi & Partners, Mr. Michael Wu was invited to give a keynote speech titled Trade Secret Disputes in China: What's New, What Works and Is There Meaningful Value in Remedies? In his speech, Mr. Wu introduced the key issues and the current development in trade secret litigations in China and gave his practical advice on how to handle a trade secret litigation in China. His speech was widely recognized and highly praised by the audience, which offered them a chance to know, in a direct and comprehensive manner, the issues related to trade secret disputes in China.
As is known to all, trade secret is one of the most significant and complex subject matters in IP protection. In recent years, trade secret disputes, great both in number and in influence, have arisen between Chinese companies and between Chinese and foreign companies. To establish a structured and perfect protection system for trade secret has become the focus of the industry. Accordingly, Mr. Wu, based on facts, analyzed the current situation of trade secret disputes in China and provided constructive advice on the settlement in his practical and exercisable speech, which helped foreign practitioners to have a more profound understanding of trade secret disputes in China, intensified the communication and the relationship with the relevant United States IP institutions and departments, and increased the common view among various parties on trade secret disputes.
Through the in-depth exchange at the Annual Meeting, the delegation of Chang Tsi and its peers and clients from different countries could know more about each other and render their cooperation and friendship much closer. The AIPLA Annual Meeting served as a platform for Chang Tsi to show its plentiful experience and expertise in the international IP field, promote its service philosophy and display its image of a professional and international craftsman in the industry.
15th Anniversary of Chang Tsi & Partners --