News
October 2018
Share this:
Chang Tsi Invited EPO Experts to Give Patent Application Training in Beijing
As invited by Chang Tsi & Partners, the experts from the European Patent Office (EPO), including Mr. Roland Johansson, the director of Office 1210, and three senior examiners, i.e. Dr. Mihai Bogdan Luca, Dr. Dimitrios Katsoulas and Dr. Oliver Rockinger, gave the training in European patent application on the morning of October 10, 2018. Meanwhile, some colleagues from legal services departments of major clients of Chang Tsi were also invited to join this training, and this opportunity allowed them to have in-depth exchange and discussion with the EPO experts.
The European Patent Office is the second-largest European organization, employing 6850 staff and over 4400 qualified patent examiners covering all technical fields. It is headquartered in Munich, but also has a branch in The Hague, offices in Berlin and Vienna, and a liaison office in Brussels. The primary work of the EPO is to conduct patent examination in Europe and offer the patent protection of inventions in up to 40 European countries. The EPO is known as one of the world's most influential and modernized patent offices. Rich in patent documentation resources, advanced in the search system for patent information and unrivalled in experience in patent examination, petition and legal research, it also offers great help to the State Intellectual Property Office of China in terms of documentation collection, search and training for examiners.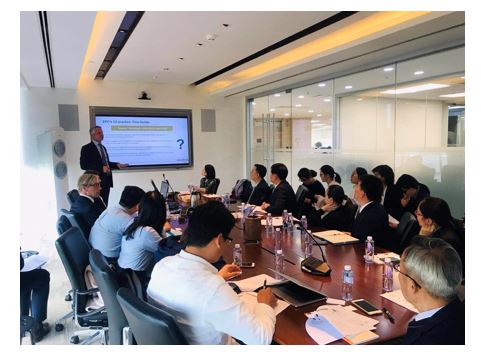 (An EPO expert was giving the training)
In this training, the experts explained the EPO examination practice relating to computer inventions, patent application and drafting about Artificial Intelligence and standards & suggestions for examination, introduced the organization of the EPO and its staff composition, and also shared the EPO experience in examination practice and the ways to accelerate examination.
2017 witnessed the first time that China has risen to top five countries filing applications with the EPO. It has been agreed by many Chinese enterprises carrying out the "Go Out" policy that core technologies in their possession can be converted into their advantages, and an earlier layout of Intellectual Property in advanced fields can serve as a strong guarantee for their competitive edges. Following the development in IP field, Chang Tsi will adjust the strategic focus timely. Furthermore, with years of experience in offering services to Western high-end clients and communicating and cooperating with international organizations, Chang Tsi will provide tailor-made services and legal support that are necessary for international development of Chinese clients, and thereby enhance the appreciation and recognition of Chinese independent innovation from the international community.
15th Anniversary of Chang Tsi & Partners --