News
August 2017
Share this:
Chang Tsi & Partners Community Service - Great love has no borders, work diligently for the common good——Tibet Journey of Love
Chang Tsi & Partners throughout the year undertaking projects to benefit underprivileged children and special needs children. Nearing the 15 year anniversary of our law firm's founding, our team has not forgotten our humble beginnings. We always bear in mind and earnestly perform the social responsibility of a corporate citizen in modern society, and once again went on a mission for public welfare.
After a joint donation by Chang Tsi and the Beijing Hearing Association in 2016 to special needs children's "咿呀公益" project, we brought our focus to the Tibetan Xiura Primary School.
Under white clouds, on our way to Tibet's Xiura Primary School
Photo captions: On our way to Gara Primary School. Travelling through mountains, white clouds, blue sky, and fresh air, we discussed our work. After three days we finally arrived at the school.
In mid-June, Chang Tsi's team embarked on a long and tiring journey to Tibet. After three bumpy days along the Sichuan-Tibet line, over 5,000 meters of mountains, and some sleepless nights, the team arrived at the Gala Primary School.
Gala Primary School has been in operation since 1956. There are only four classes. There are 106 students in total, and only 10 teachers, including substitutes. It was evident that these education conditions were very difficult.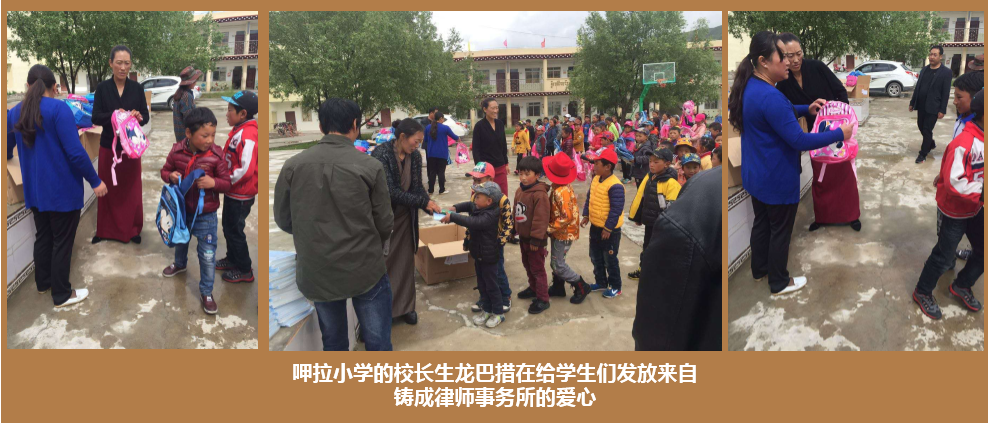 Gala Primary School receiving Chang Tsi's donations.
When we got to the school, the local parents and children waved to us enthusiastically, and gave us a warm Tashi Delek greeting. Our team donated a large number of school supplies including backpacks, pencil cases, pens, and notebooks. The children who received our donations gleamed with gratitude.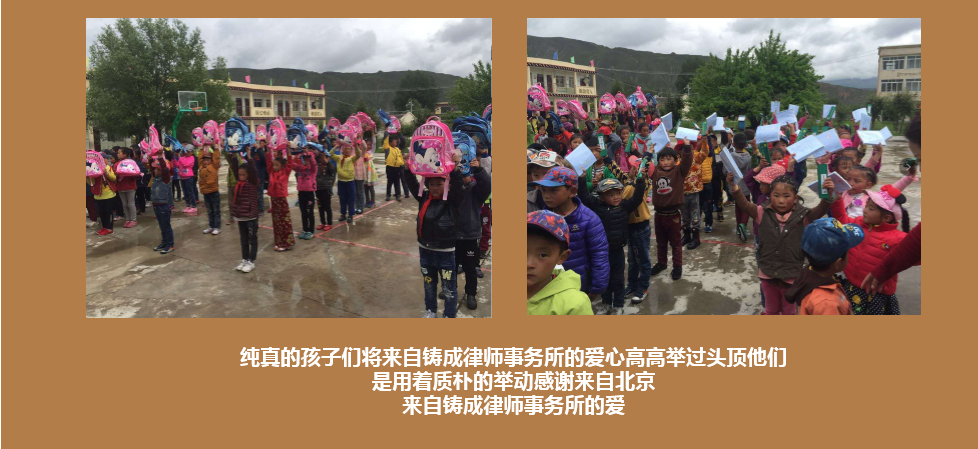 These innocent children with this simple action are thanking Beijing and Chang Tsi for our aid.
This year marks the 15th anniversary of Chang Tsi & Partners' founding. For 15 years, we have and will continue to interpret our corporate philosophy as one of employee development, responsibility, and love. Chang Tsi will always be society based, customer based, considerate of employees' feelings and visions, humbly grounded, and yet ever-striving to become a first-class, responsible, socially conscious firm of caring lawyers who will unswervingly march forward on this road.
15th Anniversary of Chang Tsi & Partners --