News
May 2018
Share this:
Simon Tsi and Spring Chang of Chang Tsi & Partners Listed in Asialaw Leading Lawyers 2018
In May 2018, Asialaw Profiles published the list of Asialaw Leading Lawyers 2018. Managing partner Simon Tsi and founding partner Spring Chang were recognized as Market-leading Lawyers. Besides, Partner David Lee was awarded as Leading Lawyer. In the earlier IP firm ranking published by Asialaw Profiles last November, Chang Tsi & Partners received the honor as Highly Recommended Firm in the Asia-Pacific region.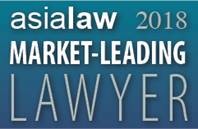 Asialaw Leading Lawyers focuses on those outstanding legal practitioners in  18 practice areas in 24 jurisdictions in the Asia-Pacific region. The list results from an extensive online survey of in-house counsel and individual practitioners.
From 2017 to 2018, the listed lawyers have led Chang Tsi & Partners to achieve many impressive results. Among them, Mr. Simon Tsi represented the dispute of Shantou Jianfa v. MK over trademark infringement, which was awarded the "Top Ten Most Researchable Intellectual Property Cases in China 2017" by SHIPA. He also represented the case of Skecher v. Speith Wensky regarding trademark infringement and unfair competition, which has gained widespread attention from both legal media, such as Lexology and MIP and legal practitioners. Ms. Spring Chang participated in cases concerning certification of famous trademarks for multinational corporations such as TIFFANY & CO. and Apple, Inc., and thereby secured critical trademark rights for the clients. Mr. David Lee represented the case concerning sales of commodities counterfeiting a registered trademark committed by XU Lin and LI Yufu, which was rated as the top ten typical cases of the national procuratorate authorities` protection of intellectual property rights in 2017.
Chang Tsi & Partners has 16 years of professional practice of prosecution and litigation in both trademark and patent fields. The clients of the firm now range from Global Fortune 500 companies to well-known Chinese enterprises. Chang Tsi has devoted itself to maintaining the long-term cooperating connection with clients. By analyzing the industry and product characteristics and getting familiar with changes in their business and foundation of rights, Chang Tsi understands the clients' operating conditions in the Chinese market and their demand for legal services. Then Chang Tsi uses transposing consideration in specific legal services so as to offer tailor-made, practical and feasible solutions to the clients. Chang Tsi maximizes the legitimate rights and interests of clients and continuously improves their satisfaction with and trust on the legal services. The listing shows not only the recognition for legal practices of Chang Tsi from the industry insiders but also the objective praise for the ability of the leading lawyers to maintain a long-term relationship with the clients.
15th Anniversary of Chang Tsi & Partners --