Team
Attorney search
Team members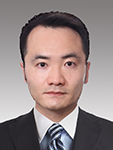 Kevin Yang
IPR Consultant
E-mail: litigation1@changtsi.com
Phone: +86 10 88369999
Mr. Yang is an IPR consultant at Chang Tsi & Partners based in the Beijing office. He has offered strategic IP consultancy services to corporate clients and foreign associates, includes administrative and criminal enforcements, China border IPR protection, anti-counterfeiting strategy and cyber infringements. Kevin also manage IPR enforcement portfolios and development of integrated IP strategies and proposals for foreign businesses.
Kevin acts as a chief liaison with local customs for coordinating customs IPR training events, he manages to visit port customs throughout mainland China territory and conduct comprehensive training sessions (brand recognition and verification tips) to frontier inspection officials.
Kevin's recent work includes advising a US-based software company in relation to trademark enforcement and investigation program in China; leading the strategic creation, rollout and management of a multinational company's China anti-counterfeiting program and etc.
Kevin speaks fluent English and Mandarin, intermediate Cantonese.
Professional Experience
Associate, Rouse & Co., International, Beijing representative office
Education Background
M.Soc.Sci, Hong Kong Baptist University
Publications
24th May 2016 - Navigating Customs Enforcement in China (INTA Daily News)
June 2011 - Protecting Enterprise Names in China (CHINA LAW AND PRACTICE)
Team Overview
Chang Tsi & Partners is proud of our excellent team of attorneys. Our attorneys are international, professional, well-educated and experienced in handling all types of commercial matters. Our partners include a few of the earliest legal practitioners in in China. Before they went into private practice, most of our partners served at government organs, judicial institutions, and/or big corporations and are thus very familiar with the internal mechanisms of these organizations. They also have established extensive, close contacts within these organizations. So our partners have the ability to integrate their social resources and create synergy to maximize the benefits for our clients.
Chang Tsi & Partners currently employs a total of 320 staffs, including 200 attorneys, agents and foreign consultants and others. The majority of our lawyers hold master's degrees and above, from prestigious law schools both domestic and international. Some of our lawyers have studied and/or worked abroad and have qualified as lawyers and patent agents in America and Canada.
At Chang Tsi, we highly value teamwork and cooperation. We also stress sharing of resources and experience in order to provide our clients with the best services. Their years of practice and extensive experience working with foreign firms, make our attorneys well-qualified to handle the most complicated and challenging legal matters for clients all over the world.