Team
Attorney search
Team members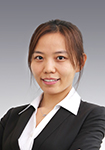 Vickie Wang
Attorney At Law | Patent Attorney

E-mail: patent@changtsi.com
Phone: +861088369999
As a patent attorney, Vickie is mainly responsible for dealing with patent applications, patent reexamination, patent invalidation matters, and patent infringement and stability analysis. Vickie also offers related consultation services, especially for foreign customers. Her major technical fields include machinery, electromechanical, engineering technology, and design.
Technical Fields
Machinery
Electromechanical
Engineering technology
Design, etc
Practice Areas
Patent application
Patent Invalidation and Reexamination
Intellectual property infringement analysis and investigation
Dispute resolution, etc
Professional Experience
Patent attorney, Chang Tsi & Partners,(2013-Present)
Education
Juris Master, Tsinghua University,(2010-2013)
Bachelor of Engineering, Shandong Jiaotong University,(2006-2010)
Representative Cases
Under unfavorable conditions where the patent examiner and many experts had opined that there was no prospect for grant, Vickie conducted sufficient search on prior art, deeply studied the patent application and prepared a professional observation to request for reexamination on behalf of GRACO MINNESOTA INC. Under her expert supervision, the patent was eventually granted.
Vickie provided Kohler, Co. with comprehensive strategies and technical support for a patent dispute involving a design.
Bar Admissions
Chinese Patent Attorney(2015)
Chinese Attorney at Law(2011)
Team Overview
Chang Tsi & Partners is proud of our excellent team of attorneys. Our attorneys are international, professional, well-educated and experienced in handling all types of commercial matters. Our partners include a few of the earliest legal practitioners in in China. Before they went into private practice, most of our partners served at government organs, judicial institutions, and/or big corporations and are thus very familiar with the internal mechanisms of these organizations. They also have established extensive, close contacts within these organizations. So our partners have the ability to integrate their social resources and create synergy to maximize the benefits for our clients.
Chang Tsi & Partners currently employs a total of 320 staffs, including 200 attorneys, agents and foreign consultants and others. The majority of our lawyers hold master's degrees and above, from prestigious law schools both domestic and international. Some of our lawyers have studied and/or worked abroad and have qualified as lawyers and patent agents in America and Canada.
At Chang Tsi, we highly value teamwork and cooperation. We also stress sharing of resources and experience in order to provide our clients with the best services. Their years of practice and extensive experience working with foreign firms, make our attorneys well-qualified to handle the most complicated and challenging legal matters for clients all over the world.