Team
Attorney search
Team members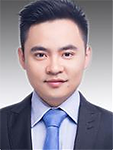 Bohan Li
Patent Attorney
E-mail: patent@changtsi.com
Phone: +861088369999
Bohan Li is actively involved in cutting-edge IP solutions and provides fortune 500 clients with innovative legal advice. Bohan is engaged in prior art searching and analysis. He has a knack for seeking out prior art and case law at an early stage of the litigation to provide clients with an accurate assessment of their patent rights. Bohan spent five years in the United States and has sat for the Chinese patent bar. He is also in charge of the direct communication between the patent team and English speaking clients.
Technical Fields
Machinery
Alternative Energy
Virtual Reality/Augmented Reality
Heat Transfer/HVAC
Fluid Dynamics
Communication
Practice Areas
Patent Prosecution and Enforcement
Technology Licensing
Technology Transfer
Education
Master of Intellectual Property, Franklin Pierce Law Center for IP (currently UNH law), Concord, New Hampshire(2015-2016)
Bachelor of Mechanical Engineering, Iowa State University, Ames, Iowa (2011-2015)
Representative Cases
Illinois Tool Works
Lesaffre
Rich Product
Hamilton Beach
Newell Rubbermaid
ZTE
Bar Admission
Publications
SIPO transformed: what China's office reshuffle will mean for enforcement and IP commercialization, Spring Chang, Bohan Li, World Trademark Review, April 2018, URL: http://bitly.ws/yNK
Incoming Changes in Design Patent in China, Nancy Qu, Bohan Li Chang Tsi & Partners, November 2017, URL: http://bitly.ws/yNL
Macroeconomics for Software Patents, Na Lin, Bohan Li, Asia IP, October 2017
Years with IP Matters
Team Overview
Chang Tsi & Partners is proud of our excellent team of attorneys. Our attorneys are international, professional, well-educated and experienced in handling all types of commercial matters. Our partners include a few of the earliest legal practitioners in in China. Before they went into private practice, most of our partners served at government organs, judicial institutions, and/or big corporations and are thus very familiar with the internal mechanisms of these organizations. They also have established extensive, close contacts within these organizations. So our partners have the ability to integrate their social resources and create synergy to maximize the benefits for our clients.
Chang Tsi & Partners currently employs a total of 350 staffs, including 220 attorneys, agents and foreign consultants and others. The majority of our lawyers hold master's degrees and above, from prestigious law schools both domestic and international. Some of our lawyers have studied and/or worked abroad and have qualified as lawyers and patent agents in America and Canada.
At Chang Tsi, we highly value teamwork and cooperation. We also stress sharing of resources and experience in order to provide our clients with the best services. Their years of practice and extensive experience working with foreign firms, make our attorneys well-qualified to handle the most complicated and challenging legal matters for clients all over the world.