Team
Attorney search
Team members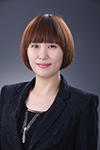 Cindy Wen
E-mail: patent@chagntsi.com
Phone: +86 10 88369999
She graduated from Peking University in English majors. When she worked in CCPIT Patent and Trademark Law Office, she participated in the patent process training and seminar held by the SIPO. She has rich experience in foreign patent process management, managed more than 10000 patent applications. She engaged in patent application management of Key customer, patent process design.
Professional Experiences
Chang Tsi& Partners
CCPIT Patent and Trademark Law Office
Education
Bachelor of English language and literature, Peking University
Team Overview
With over 350 legal professionals with a diversified background, Chang Tsi & Partners offers clients deep expertise and professional experience, leading to successful legal solutions. Our attorneys are always praised for their sharp insights into the policy, and their pragmatic commercial awareness. Qualified to practice in other jurisdictions, our attorneys can maximize the profit of clients in different areas.