Team
Attorney search
Team members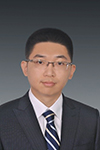 Jincheng Lu
Attorney At Law
E-mail: litigation3@chagntsi.com
Phone: +86 20 28816699
Mr. Lu is based on Intellectual Property Legal Affairs, and expands the scope to corporate, commercial and other legal affairs. According to the specific needs of different customers, Mr. Lu strives to provide customized legal services for each customer.
Mr. Lu focuses on all aspects of intellectual property rights, including applications and protection of trademarks, patents, copyright, domain names; unfair competition; consumer rights and interests; corporate laws; litigation; and dispute resolution. Mr. Lu can provide customers with a comprehensive, multi-level, one-stop legal service. Mr. Lu is fluent in English and Mandarin.
Practice Areas
Corporate Laws, Business Laws, Litigation
Representative Cases
Provides legal services for intellectual property administrative and judicial remedies, advertising law, and corporate law for various Fortune 500 companies.
Participate in the case regarding an affiliate of a large stateowned company being sued for dispute of the put option agreement in the U.S. Mr. Lu carefully studied large amounts of English files and provide the client with a thorough strategy. Actively coordinate the parties by Mr. Lu, the case was successfully solved with great commendation from the client.
As the legal counsel of a newly established high-tech company, review and revise contracts and other legal documents, help the client to set up a database of common contract templates, provide legal service to protect the company's development.
On behalf of a leading global technology company, file complaint to major network platforms in China regarding the music that the client owns the copyright; successfully stop the online infringement
Professional Experiences
Litigation lawyer, Chang Tsi & Partners (Guangzhou Office)
Assistant, Guangdong Jun Xin Law Firm
Education
L.L.M. Michigan State University (2011)
L.L.B. North China University of Technology (2009)
Bar Admission
Team Overview
With over 350 legal professionals with a diversified background, Chang Tsi & Partners offers clients deep expertise and professional experience, leading to successful legal solutions. Our attorneys are always praised for their sharp insights into the policy, and their pragmatic commercial awareness. Qualified to practice in other jurisdictions, our attorneys can maximize the profit of clients in different areas.