Team
Attorney search
Team members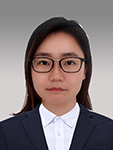 Sue Gui
Attorney At Law
E-mail: litigation5@changtsi.com
Phone: +86 10 88369999
Engaged in providing counselling services on a wide range of IP issues in China, in both contentious and non-contentious matters. Specialized in the development of broad focus IP protection and enforcement programs for multinational corporations. Involved in many administrative lawsuits and civil lawsuits for IP matters.
She has more than 7 years experience as IP lawyer in Chang Tsi & Partners. She can handle different types of IP disputes and is outstanding in administrative litigation and IP protection, especially domain name disputes.
Practice Areas
Specialized in all aspects of IPR enforcement in China, including establishing IP strategy for large enterprises with complex portfolios, IP enforcement actions, litigation, company name disputes, domain name enforcement, customs protections, etc. Dealt with more than 1,000 IP cases of different varieties. Expert advisor on the workflow of CTMO, TRAB, and Beijing IP Courts.
Professional Experience
Attorney at Law, Chang Tsi & Partners since 2010.
Education
LLB & English Literature (Double Major), Minzu University of China (2006-2010)
Representative Cases
Represented different clients in more than 30 administrative litigations with favorable outcomes;
Represent different clients including Mead Johnson, Guinness, ITW, Charles Schwab in more than 40 domain name disputes and the results were all favorable for client.
Represent Lexington Furniture Ltd. vs. Tianjin Firstwood Ltd. in trademark infringement litigation. Handled the enforcement work after the judgement and secured compensation from the infringer;
Represent Guinness World Records Limited v. Chery Automotive Limited in trademark infringement litigation in the first instance. The result was favorable to Guinness and the court awarded compensation to Guinness.
Successfully represented the Charles Schwab Group, Iconix Limited, GNC, etc. to file company name complaints with the Hong Kong Company Registry against HK companies.
Bar Admission
Team Overview
Chang Tsi & Partners is proud of our excellent team of attorneys. Our attorneys are international, professional, well-educated and experienced in handling all types of commercial matters. Our partners include a few of the earliest legal practitioners in in China. Before they went into private practice, most of our partners served at government organs, judicial institutions, and/or big corporations and are thus very familiar with the internal mechanisms of these organizations. They also have established extensive, close contacts within these organizations. So our partners have the ability to integrate their social resources and create synergy to maximize the benefits for our clients.
Chang Tsi & Partners currently employs a total of 350 staffs, including 220 attorneys, agents and foreign consultants and others. The majority of our lawyers hold master's degrees and above, from prestigious law schools both domestic and international. Some of our lawyers have studied and/or worked abroad and have qualified as lawyers and patent agents in America and Canada.
At Chang Tsi, we highly value teamwork and cooperation. We also stress sharing of resources and experience in order to provide our clients with the best services. Their years of practice and extensive experience working with foreign firms, make our attorneys well-qualified to handle the most complicated and challenging legal matters for clients all over the world.