Recently, by virtue of the effective legal services provided to Skechers, especially the success of several major IP or trademark lawsuits, Chang Tsi & Partners has won high praise from customers. Skechers China hereby sent a letter of appreciation to Chang Tsi & Partners and hailed us as "Trustworthy Partner of 2022".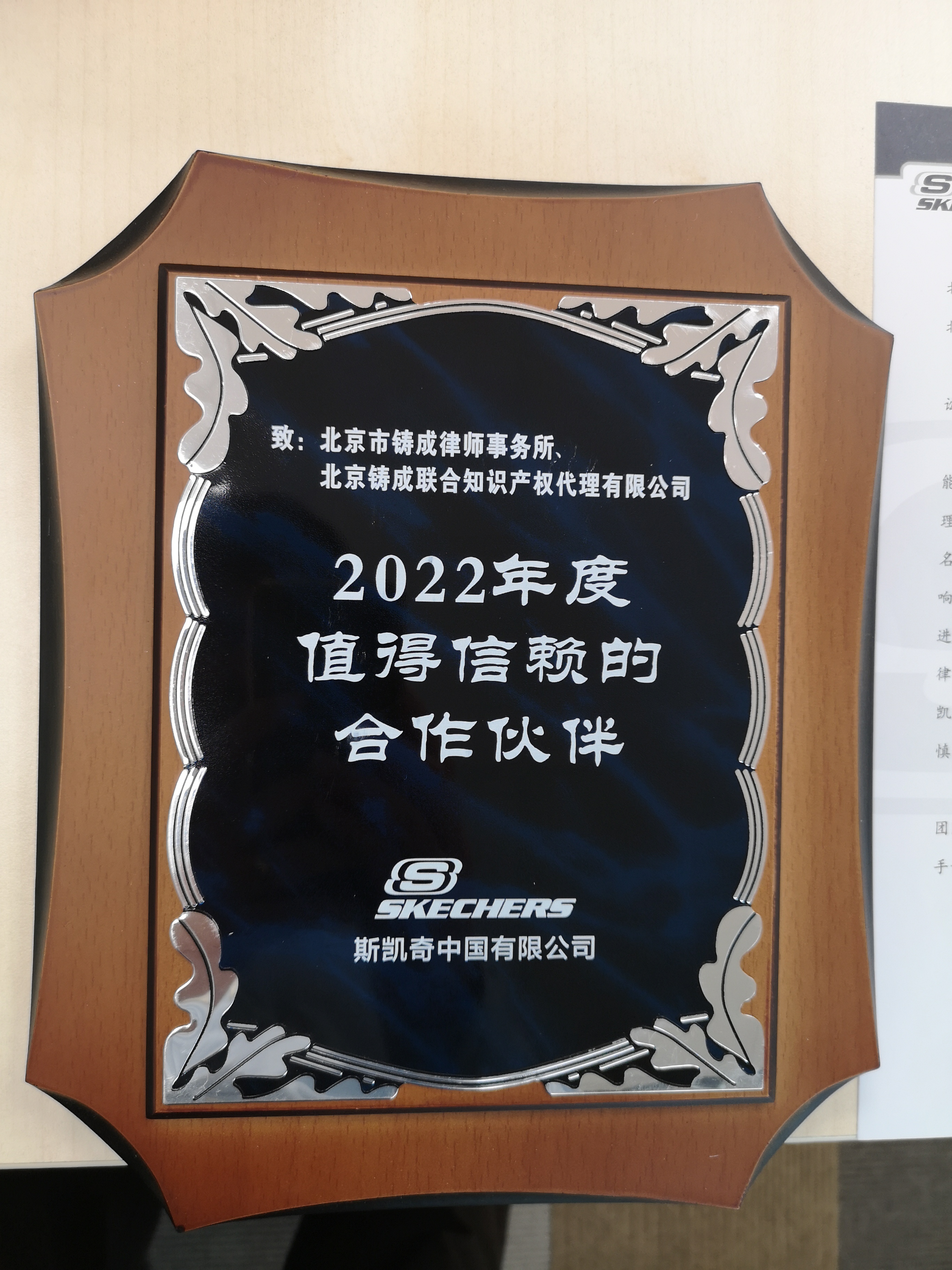 In all kinds of infringement cases, Chang Tsi & Partners has made use of our strengths, flexibly mobilized resources in all fields, formed a capable team to connect with customers, and obtained results beneficial to customers through detailed legal research and in-depth understanding and analysis of the case. Our fruitful results had been extensive;y reported by the People's Daily, China Intellectual Property News and other well-known media. Over the years, Chang Tsi & Partners has not only helped customers effectively protect their intellectual property rights in China, but also facilitated cracking down on IP crimes; Through in-depth cooperation, we also helped our customers to establish and improve a systematic and full-process enterprise intellectual property management model.
About SKECHERS
SKECHERS is a U.S. lifestyle and performance footwear company founded in 1992. The company went public on the New York Stock Exchange in 1999. The brand name SKECHERS originated from a South California slang, which means "energetic youngsters", representing the young groups leading fashion and extraordinary lifestyle. The company is the owner of its homemark "S" design and series of "SKECHERS" trademark, which has a history over 20 years. After long-term and widely worldwide use, the brand has become famous footwear brand. Until 2017, SKECHERS products are available in more than 160 countries and territories and its annual sales record reached over $4 billion.
The First Instance of SKECHERS' Successful Case
The Defendant Spieth & Wensky, without SKECHERS authorization, used the variant of the mark licensed by Quanzhou Bohai Shoes Industry Co., Ltd. in manufacture and distribution of products. All these conducts constitute trademark infringement and unfair competition. The first instance judgment overruled all of SKECHERS claims. At this crucial moment, CT was entrusted to represent SKECHERS for appeal. In the appeal, on one hand CT emphasized the relationship between the 2 Defendants and the trademark owner's legal liability. On the other hand, CT collected bunch of evidence attesting SKECHRES reputation in China and how the Defendants inappropriately use the licensed mark, maliciously copied SKECHERS design and conducted false presentation. CT particularly stressed the Defendants' long-term bad faith of infringing other IPRs. This strategy made great success. The appeal court finally ascertained that the 2 Defendants' conduct constitute trademark infringement and unfair competition, revoking the first instance and supporting all of SKECHERS claims. The 2 Defendants were ordered to be jointly and severally liable for monetary compensation of CNY 3 million. Now the final judgment has become effective.
The Second Instance of SKECHERS' Successful Case
The case against "SKETCH" is an invalidation case. The application of Target Mark is an imitation of the applicant's well-known marks "SKECHERS" and "SKECHERS in Chinese". Although the Target Mark had been registered for more than 5 years when we filed the invalidation, we still successfully invalidate the Target Mark through proving well-known status of the client's "SKECHERS" and "SKECHERS in Chinese" mark, and bad faith of owners of the Target Mark. In the invalidation decision, the TRAB recognize well-known status of the applicant's "SKECHERS" and "SKECHERS in Chinese" mark. Specifically, the applicant's "SKECHERS in Chinese" mark has been recognized as well-known mark for the first time.
Over the years, Chang Tsi & Partners has adhered to the principle of "customer first, service first", provided various customized legal services for our customers. Our lawyers have rich experience in intellectual property protection, and can provide customers with professional services such as trademark, patent, copyright and other intellectual property application, management, and rights protection. We will continue to provide customers with high-quality services and create a better future with our customers.