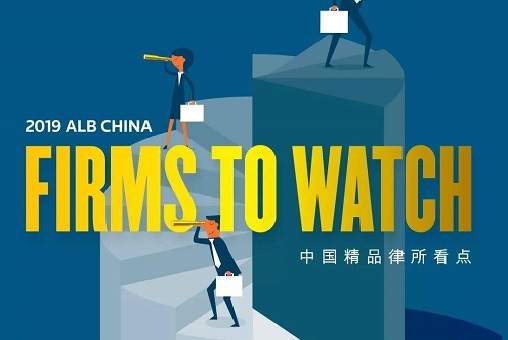 Asia Legal Business (ALB) announced the final ranking of 2019 ALB China Firms to Watch. With its outstanding performance in the IP field and impressive growth in business, Chang Tsi & Partners was included into the ranking and highly recommended by the ALB in 2019.
The ALB under Thomson Reuters is committed to providing legal ratings and rankings covering various practice areas, which are deemed one of the highest reference value by the practitioners in China and even throughout Asia. In 2019, the ALB keeps on spotlighting excellent firms that attract the most attention in the industry and show great strength in their practice areas. Top 10 law firms were selected and highly recommended on the basis of law firm profile, past significant achievements, together with major deals/litigations, new clients wins and growth in the past 12 months, as well as the growth strategy for the next 12 months.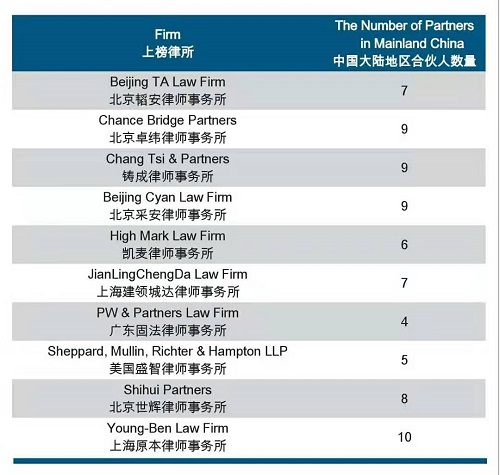 Chang Tsi is a law firm handling foreign IP cases. Having offered services to foreign major clients for years, Chang Tsi gains more and more international and advanced experience, gradually develops an international vision and strategic insight, and wins wide recognition of its quality services from both Chinese and foreign clients. In recent years, by its in-depth cooperation with domestic major state-owned corporate groups (e.g., Air China, Aviation Industry Corporation of China, etc.) and top-level high-tech enterprises, Chang Tsi duly adjusts the priority of work, adapts to the related demands from clients, and spares no efforts to assist Chinese enterprises in maintaining their market position and enhancing their IP competitiveness.
In 2018, Chang Tsi maintains a steady growth in the IP non-litigation area. Its performance in trademark has made a new record in the last September, and the number of new applications for trademark, as filed by Chang Tsi, has already exceeded the total of 2017 until then. Also, its patent service has doubled in volume as compared with the same period in the previous year.Meanwhile, great achievements have been created also in the litigation area. Many litigation cases represented by Chang Tsi have been discussed extensively in the industry and honored with many awards, such as the case of Shantou Jian Fa vs. MK on trademark infringement; the case of Under Armour vs. Fujian Ting Fei Long Sports Goods Co., Ltd. regarding trademark infringement and unfair competition; the case of Guinness World Records vs. Chery Automobile and Anhui Chery Automobile Sales Co. concerning trademark infringement and unfair competition; the administrative lawsuit of Shanghai Zhendi Decorative Material Co., Ltd. vs. China Trademark Review and Adjudication Board; and the case of second instance of Skechers vs. Spieth & Wensky, et al. on trademark infringement and unfair competition. These classic cases well represent the litigation strength and the service concept, i.e., maximizing clients' interests, of the attorneys of Chang Tsi.
For the coming years, Chang Tsi will strengthen its competitive edges and further expand its patent business, especially in the area of resolution of patent dispute. For this purpose, the firm is required to duly handle not only administrative cases of patent dispute in the determination of patent rights, but civil and criminal cases of patent dispute. Besides, Chang Tsi will give more focuses on, and participate in, such new and frontier business areas as Standard Essential Patent and Anti-monopoly. We believe that the expansion of business will enable Chang Tsi to forge new competitiveness in the top level of business.
Chang Tsi will continue working towards the planned development goals. With IP services as its core business, Chang Tsi will offer to Chinese and foreign clients the all-round, multi-leveled, one-stop professional legal services, and strive for building itself into one of the most excellent and reputed professional IP firms in China and even around the world.