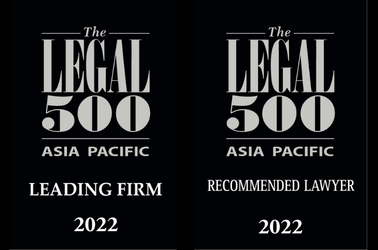 The Legal 500 has recently released its annual guide - The Legal 500 Asia Pacific 2022, recommending the top-tier law firms in different practice areas. Chang Tsi & Partners has been recognized in two practice areas: Intellectual Property (Contentious) and Intellectual Property (Non-Contentious) .
Commented by The Legal 500, Chang Tsi & Partners 'maintains a well appreciated global outlook' in advising clients on all elements of IP law; the firm is instructed by numerous multinational companies to protect their interests in China. The group has a particularly strong roster of fashion and sports brands, which it assists will all elements of trademark protection; this includes well-known names such as Under Armour, Michael Kors and Vans.
The guide also mentions Simon Tsi as one the firm's primary litigators who works with private companies and State-owned enterprises on trademark infringement and unfair competition cases. On the non-contentious side, founding partner Spring Chang is mentioned as a leading lawyer and a trademark agent and assists clients from the pharmaceutical, electronics and consumer products industries. In addition, Litian Xu, Kim Lu, David Lee, Tracy Shen, Michael Fu, Yan Gao, Nancy Qu, Michael Wu and Wendy Wu are mentioned as key lawyers by The Legal 500.
The Legal 500 is a well-known global legal media, analysing the capabilities of law firms across the world, with a comprehensive research programme revised and updated every year to bring the most up-to-date vision of the global legal market. Its researchers carry out extensive research into each jurisdiction, canvassing law firms and contacting more than 300,000 clients for feedback on the lawyers they instruct.